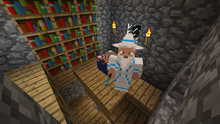 Summary
The Player (Electroblob's Wizardry) is the same as the original Minecraft Player, except now they have a massive list of spells at their disposal.
Powers and Stats
Tier: 9-A | Varies from 9-B to 8-C | 8-A | 6-B | At least 6-B | 2-C, possibly 2-B
Name: Unknown
Origin: Minecraft (Electroblob's Wizardry mod)
Gender: None (Word of God has stated there is no gender in Minecraft)
Age: Unknown
Classification: Human, Miner, Wizard, Necromancer.
Powers and Abilities:
Attack Potency: Small Building level (Can kill Silverfish) | Varies Wall level to Building level (Spells like snowball are comparable to snow golem's snow balls, spells like ignite and magic missile can kill silverfish and other similar mobs, can summon zombies for combat) | Multi-City Block level (They can defeat The Twilight Lich and Naga, can cast the Twilight Lich's spell, their spells can easily kill Endermen, Vindicators, and Evokers) Can ignore durability with many of their abilities | Country level (They can summon a massive storm over the entire world of Minecraft, can summon the Ender Dragon's fire and Wither's skulls to attack foes) Can ignore durability with many of their abilities | At least Country level+ (Their Master level spells are vastly superior to advanced spells) | Low Multiverse level, possibly Multiverse level (Comparable to the canon real player).
Speed: High Hypersonic Movement Speed (Can move at a comparable speed to meteorites) with Massively Hypersonic+ Attack Speed, Combat Speed, and Movement Speed in short burst (Can react to Lightning from a small distance away and can easily react to meteorites, can attack with natural lightning and the Charge and Evade spells allow the player to dash as fast as lightning). | Unknown
Lifting Strength: Class 50 (Can lift two massive gold blocks, can lift a man sized hammer) | Unknown
Striking Strength: Small Building level (Can defeat Silverfish with little difficulty) | Small Building level (They physically are as strong as before) | Multi-City Block level (Can kill mobs like the Endermen), Higher with Invigorating Presence | Country level (Can hurt the Ender Drgaon), Country level+ with Invigorating Presence and potions | Country level (Same as before), Country level+ with Invigorating Presence and potions | Unknown
Durability: Building level (Can survive Ghast explosions) | Building level, Multi-City Block level against magic (Their weakest wizard robes can protect them from zombies and skeletons, Ward can block apprentice spells), Country level+ with a shield (Can block hits from the Ender Dragon and Hydra) | Multi-City Block level, Higher with magic (Can survive hits from the Twilight Lich, Naga, and Creeper explosions, Oakflesh allows the ability to easily tank Creeper explosions), Country level+ with magic and shields (Their physical and magic shield can block hits from the Ender Dragon, Frost Barrier can stops hits from the Wither), Country level+ against Electricity (The Amulet of Channeling can cancel out their most powerful lightning spells) | Country level, Higher with and against magic (Can survive hits from the Ender Dragon and spells of comparable power to their own, Ironflesh allows them to tank hits from the Ender Dragon, Greater Ward can block spells comparable to their own), at least Country level+ with Forcefield (Can tank master level spells) | Country level (Same as before), Country level+ with magic (Diamondflesh and Forcefield allows them to tank master spells) | Unknown
Stamina: Very High. Can fight for three days straight before becoming tired, can fight after being stabbed through the head and receiving many other injuries. Replenish Hunger and Satiety can restore their stamina. | Unknown
Range: Extended Melee range with swords, a few meters to dozens of meters with their novice and apprentice spells, a few hundreds meters with a few of their advanced spells, a few kilometers with teleportation, dozens of kilometers with a few of their advanced spells such as Lightning Bolt, over a hundred kilometers with Meteor, thousands of kilometers with transportation and Invoke Weather, Low Multiversal with portals | Low Multiversal level, possibly Multiversal.
Standard Equipment: Nothing | A wizard staff, wizard robes, a few spell tomes, food, a pickaxe.
Optional Equipment: Swords, bows, boats, fishing rods, potions, spare crafting materials, all their spell tomes, and crafting tables.
Intelligence: At least Gifted, possibly Genius. They are an expert fighter, miner, farmer, architect, blacksmith, alchemist, and many others. Can master spells that normal people can't even begin to understand and can create a variety of advanced magical artifacts with little prior knowledge. Higher with the Amulet of Wisdom | Genius. Everything in Minecraft is part of their dream.
Standard Tactics: The Player is very likely to start the fight with spells. Depending on which elemental class they have chosen to specialize into they may be more likely to cast certain spells over others (for example the necromancy class will be more likely to try to decay away opponents, summon undead, and transfer the damage they receive, while the lightning class will mostly just use lightning based attacks).
Weaknesses: Can only have a limited numbers of spells on a single wand, all their spells rely on a limited amount of mana (though later on some robes can lower the amount of mana required to cast spells), some spells have cooldown periods, non upgraded wands can't recharge mana, Wizard Robes rely on mana (though the Amulet of Arcane Defence can restore their lost mana over time), many of their damage transferal spells hurt both them and the enemy equally, without the Ring of the Defender they can't shoot through their own Forcefield, can't interact with the world while using the Transience spell. The Mind Control spell doesn't work on those with strong wills. The petrification spell can be broken out of if those inflicted by it are in a dark area. Creatures summoned through spells will eventually disappear. Splash Potions can hurt them if they are too close. TNT takes several seconds to explode, usually giving enemies enough time to escape. They can be interrupted while slinging arrows. Death will cause them to lose all of their items until they can retrieve them (Though this can be slightly or even completely negated with Charms of Keeping). Naga's scales lose their curse nullification over a very long period of time.
Notable Attacks/Techniques:
Slow Time: Slow time time can either slow or completely stop time depending on whether the user has the Peculiar Pocketwatch or not.
Curse of Soulbinding: The caster bounds the opponents soul to theirs. The afflicted receive the same damage they afflict onto the caster, but the caster doesn't receive the damage they afflict onto the afflicted.
Note: This profile assumes Twilight Forest is canon, or at least connected, to Electroblob's Wizardry because Electroblob was the one who made the spell pack for twilight forest.
Key: Beginning Game | Novice Spells | Apprentice Spells | Advanced Spells | Master Spells | Real Player
Other
Notable Victories:
Notable Losses:
Inconclusive Matches:
Community content is available under
CC-BY-SA
unless otherwise noted.