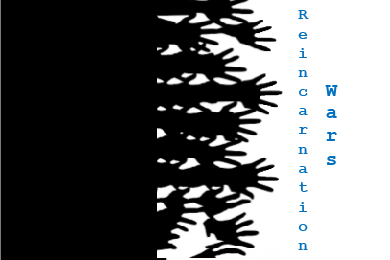 Summary
Reincarnation Wars is a roleplay hosted on VS Battles wiki, and is the oldest entry into the VSRPverse, with various story ties to the similar roleplay Everybody Wants to Rule the World. Although its original concept was created by Spider Kaiju, Reincarnation Wars instead ended up being run in succession by several different users; the most prominent being Edwellken.
The balance of reality has been severed. For eons, two supreme beings fought for supremacy over existence. The divine god of creation known as The Emissary, and the evil entity known as The Supreme Darkness, which wishes to plunge reality itself into utter destruction. However, The Emissary has been shattered, and The Supreme Darkness granted free rein to enforce its will upon the multiverse. It devours world after world, taking their varied inhabitants and warping them into perverted monstrosities that carry out its will. Soon, if it isn't stopped, all of reality will be taken under its dark influence and completely wiped out.
Reincarnation Wars centers around a group of individuals, (the players), who suddenly gained the powers and memories of their past lives. Gathered by the servants of The Emissary, it's up to our party of heroes to fight against The Supreme Darkness in order to determine the fate of reality once and for all.
Power of the verse
While the power of characters varied greatly in the early game, Reincarnation Wars has developed into a rather impressive verse. God tiers for instance are incredibly powerful, sitting decently far into Multiverse level+. The Supreme Darkness is able to affect outerversal beings, bringing several 1-A verses into the conflict and triumphing over them. As of now, the late game party varies from Multi Solar System level to Universe level. They recently unlocked powerful conceptual manipulation as well as resistance to much of The SD's abilities. Even the mysterious entity known as Alpha who trained the later game party was capable of taking them all on at once.
Characters
The Party
Garret Hawkins
Blane Blaze
Greg 
Annalis Watson
Realm
Kyoryu 
Jake 
Titania Arkos
Genesis 
James Fuller
Michael Star
Johannes Damiel
Jordan Smith
Gabriela Luna
Servants of The Emissary
Kuro
Shiro
Shura
Guré
Sam
Servants of Darkness
Chaos
Shadow Beast
Door Boss
Servants of Alpha
Sorbet
Yul
Eir
The Beast
Strength King
Hamster Guardian
Tournament Combatants
The Champ
Aki
Castor
Divine Dragons
The Golem
Marigold
Babylon
Zhero
Supreme Beings
The Emissary
Supreme Darkness
Alpha
Remiela
The Old First
Others
Shelby
Rei
Community content is available under
CC-BY-SA
unless otherwise noted.