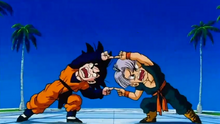 Introduction
A character's ability to fuse anything together to create a new form. The user can fuse together objects, powers, emotions, concepts, living beings, etc., turning them into single unit.
Also Called
DNA Fusion (Biological)
Fusion Forms
Fusion Inducement
Omnifusion
Polymerization
Power Fusion (Powers)
Spiritual Merging (Spiritual)
Superior Splicing
Applications
Fusing together Magic and Chemistry Manipulation, two distinct powers, to form Alchemy.
Fusing a television and a cellphone to create a holocron.
Fusing animals, people, creatures, etc. to create Chimerism, Hybrids, etc.
Fusing Powers and Enhanced Combat to create Combat Merging.
Fusing various matter to create Matter Melding
Fusing powers to create Power Mixture.
Variations
Conjoined Physiology
Digital Fusion
Soul Merging
Weapon Combination
Associations
Amalgamation
Fission Entity Physiology
Fission Inducement
Hybrid Physiology
Union Attack
Limitations
Not all fusions will lead to good results.
Fusing emotions might prove unstable or temporary.
Users of Immutability cannot be affected.
May cause Divided Mind if the separate minds don't merge.