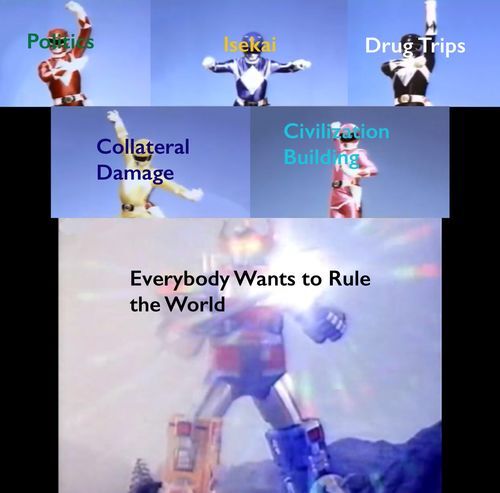 Summary
Everybody Wants to Rule the World is a VsBattleWiki RP created by SpiderKaiju.
A nigh-omnipotent being has given us all powers of various people through fiction. He has given us all powers and many other people's power throughout the Earth so he can watch as the world is thrown into Chaos. His goal is to make the world stronger through strife and conflict. If it doesn't survive, he doesn't care. You can band together to take out the new threats as they arrive to conquer entire regions of the world, try to murder as many people as possible, etcetera, or you can be one of these threats yourself.
Here is a archive of all the story threads for the RP.
It also has various ties to the similar roleplay Reincarnation Wars, and with it is part of the VSRPverse.
Characters
Gods
Lord English
Summoned by Omni (First Timeline)
Johann
Barian
Michael
Douglas
Odd
Ripodanof
Steven
Melvin
Nora
Ralph
Adrian
Velvet
Summoned by Omni (Second Timeline)
Blake
Shane
Blarie
Adrian
Summoned by Omni (Third Timeline)
Edward
Silas Alius
Michael
Jack
Liberty Patri
Jarid Damien Thureau
Waldo
Jerry Logan
Summoned by Joseph (Fourth Timeline)
Björn
Eden
Destiny Colberd
That Guy
Sócrates Kant the CXI
Joel Jogan
Akuma no tenshi
Michael Adumas
Koth
Silas Erebus
Marta
Will Wistop
Walter Wartime
NPCs
Sunrise
Summoned by ??? (Fifth Timeline)
Alex Doss
Rosekiller
Beerko der Säufer.
Non
Vitus Alesio
Grimm
Jessebell Matchlin
Charley Despo
Daniel Clyptum
Rompot
Pizza Boy
Jason Hughes
Elise Green
Arthur
Villager A
Ted Kneeland
Abiah Wakana
Summoned by Nil (Everybody Wants to Die)
Valev 'Valev' Valev
Oliver Anderson
Seven
Marigold
Scarlet
Pika
Nathan Shock
Gigantorgue
The Suicide King
Summoned by Ichika and Ilia (Everybody Wants to Die 2)
Mobius, the Anti-God
Dura Gonfors
The Final Colonel
Demetrius
Sam
Iyl
Xander
Reina Ivyred
Thrasher
Gunner McBullet
Dr. Ihopethisisgoingtogeteasier
Nil
Mother Hel