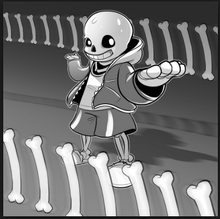 Introduction
The ability to manipulate the bones of oneself and/or others. The user has complete control over the bones of oneself and others, including growing, shaping, manipulating density/weight, using as projectiles/weapons, etc. They can also manipulate bare skeletons or separate bones. Bone Manipulation can be used to splinter, deform, and otherwise render bones useless in combat.
Also Called
Bone Control
Controlled Bone Growth
Dead Bone Pulse/Shikotsumyaku
Osteokinesis
Bone Destruction/Deformation
Limitations
May be limited to manipulating the bones of others or only themselves.
Skin may be torn open in order for bones to emerge, and user may be against over-usage.
Causing bones to exude from body or break can be still painful.
The bones themselves can only handle so much pressure without a second power assisting.
Users
Stephen Iscariot

 (

Bizzarre Fantasy

)